Sports Tape
Views:13 Author:Site Editor Publish Time: 2017-11-15 Origin:Site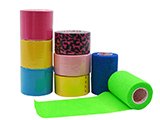 Feature
1.Comfortable substrate,soft and breathable
2. Alow full range of motion
3. Provide consistent compression,apply properly to avoid cutting circulation
4.Stable stretch and reliable stickiness.
Applications
1.Supporting bandages for muscles
2.Assists lymphatic drainage
3.Activates the endogenous analgesic systems
4 .Corrects joint problems
Availablecolor:white、skin、pink、green、blue、black
Product size: 5cm x5m
Package:simple packing
Option: different size and color, Brand customization
Storage: the humidity cannol be over 80%, and temperature is (-5-30)"C
Shelf life: 2 years
CE/FDAISO13485
Safety Instructions
1.In the case of acute injuries or complex disease symptoms, product adhesion should be performed by a doctor or physiotherapist.
2.Do not over stretch the product when attaching it.There should not be excessive constriction.
3.Leave the producl on the skin fora maximum ofseven days.
4.Do nol use in case of skin diseases and iritations.
5.Should hypersensitivity or allergic reactions occur such as itching, reddening or swelling of the skir where the product is attached, remove the product immediately.
6.Should problems occur while wearing the product,remove the producl immediately and consul ta doctor.